China's 'Instagram' Gets Into Virtual Fashion With Users Strutting NFT Clothes
Will fashion shows move from Paris and Tokyo catwalks to potential audiences of millions in the metaverse? China's Xiaohongshu social media site is testing the idea.
Kabir V.
11:12 7th Jul, 2022
NFTs
China's social media platform Xiaohongshu, or literally translated to "Little Red Book" in Mandarin, the Middle Kingdom's version of Instagram with over 148 million daily users, is developing niche services for fashion bloggers who want to strut their stuff in virtual clothes based on NFTs.
If that sounds complicated here's an idea of how it works — courtesy of video blogger Linersan (林贰三) who has 13,000 followers on Xiaohongshu and shared her experience of buying and wearing virtual NFT garb in a video.
First off, these virtual garment NFTs debuted in April on "R-Space," Xiaohongshu's NFT marketplace. Linersan says she bought the NFT for a virtual dress and sent it to a designer along with pictures of herself.
"I need to send the designer the unique code of the virtual dress NFT, and then provide a photo of myself that the designer uses to show me 'wearing' the dress," she said in the video. The designer said the photo needs to be high definition and "just pose like you're actually wearing it," Linersan says.
Three days later the pictures came back showing her in the virtual silvery white dress titled "Galaxy Heart." It cost 399 yuan for the photo (about US$60). But additional copies cost 150 yuan each. The video got 20,000 likes, while her photo of wearing the dress got about 1,500 likes.
However, according to Linersan's video, NFT clothes have a short shelf life. At the end of the video, she says: "This also made me realize the truth — after taking photos of wearing it for once, the costume's lifespan has been exhausted."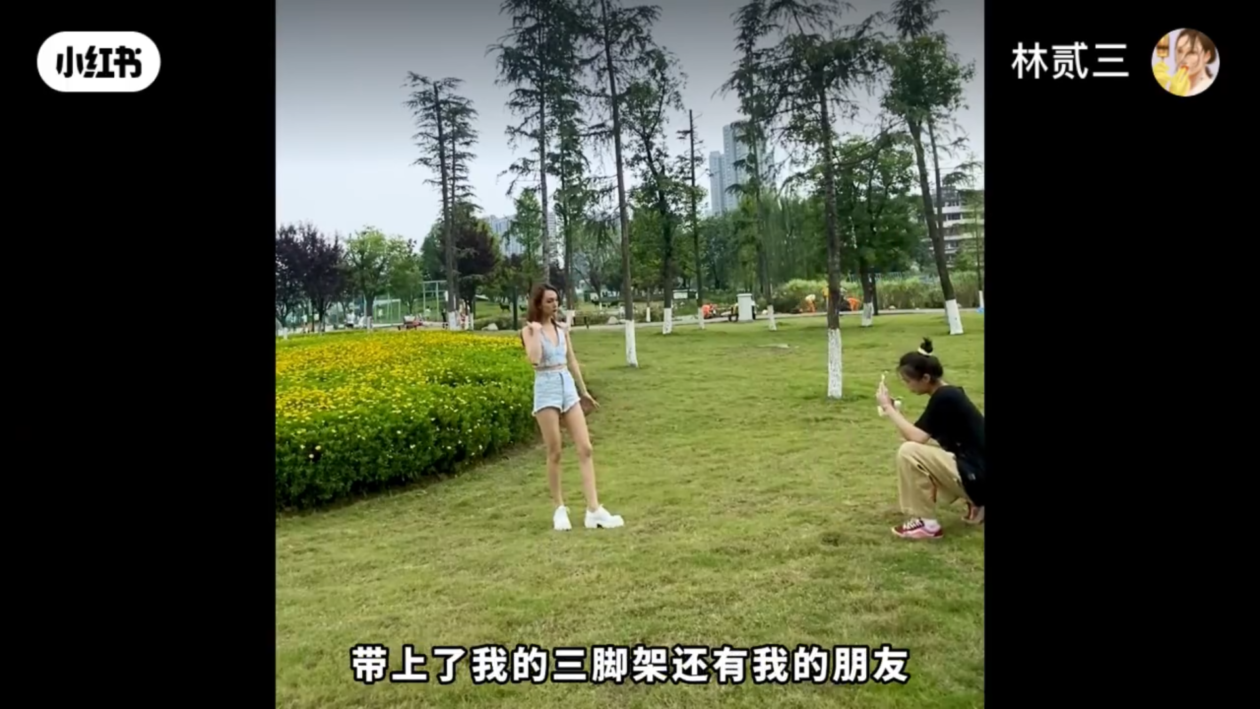 These virtual costumes on Xiaohongshu start from 20 yuan (about US$3) for a head ornament, to a sci-fi-themed dress priced at 5,000 yuan (about US$745). Virtual shoes, earrings, bags, and even manicures are in the R-Space shopping window.
Xiaohongshu seems to see business opportunities in NFT clothes and has been recruiting virtual fashion designers since May. It's been promoting new clothes on the NFT marketplace every Friday since June 10.
NFT fashion blogger Jane Xu said on Xiaohongshu she has purchased 24 NFT items on the site and published 13 posts with photos of herself wearing the virtual clothes.
Xu said being a virtual fashion blogger is the same as a regular reviewer, which is to showcase clothing brands and designs to trend-conscious consumers. The advantage of the NFT work is that there are no cluttered closets and it's more eco-friendly, she said. Like Linersan, generally, she won't "wear" an NFT outfit for a second time once she's shown it on social media.
At present, Xu has less than 1,000 followers on Xiaohongshu and most of her virtual fashion posts have less than 10 likes, but she said the virtual NFT clothing trend is just taking off and she wants to be in at the start.
"2022 will be the first year of China's metaverse fashion," she said, "it is my hobby now, but if there's a chance, I would like to develop it into a career."
Yanie Durocher, co-founder of POM POM, a Shanghai-based marketing firm for fashion brands, also sees opportunity in NFT clothing fashion.
"Imagine your agenda — you're all the time on TikTok or whatever virtual world, there's actually a bigger value to show your product to 500,000 people rather than in a physical evening with 20 people," she said in an interview with Forkast.
At least 136 virtual fashion designers have put out 298 items on Xiaohongshu's NFT marketplace as of this Monday, according to Forkast's estimates. CHENPENG Studio — founded by a designer of that name — is one of the pioneers.
The studio, which made five sets of costumes for the Beijing Winter Olympics, started in April, minting an NFT of a design for their winter and autumn season of 2022 — a mermaid tail-shaped gown made of down material — and released it on Xiaohongshu's virtual fashion collection.